Effective July 1, 2023, all UC locations are required to report financial transactions to UCOP in the new Chart of Accounts format. UC Davis will fully implement the new CoA on January 1, 2024, concurrent with the launch of the Aggie Enterprise system.
Updated Dec. 22, 2022
The timeline for the CoA project is divided into three phases: Design, Development and Implementation. 
The Chart of Accounts Design Phase concluded on July 1, 2021 with the final approval of the segment design and definitions.  During Design, the CoA team conducted extensive stakeholder outreach through discovery sessions, and leveraged a CoA prototype for proof of concept demonstrations.
CoA Development will take place from July 2021 through June 2023. This phase involves hierarchy and value development, mapping of FAU values to the new Chart of Accounts, and data clean-up.  The goal of this phase is stabilizing the CoA by ensuring 

all existing KFS FAU values have been mapped correctly. Data governance policies will be established to support the creation of new values.

The Implementation phase will take place from July 2023 through January 2024. This phase involves

the central Finance and Financial Systems teams using an interim reporting solution

 to translate KFS FAU data to the new CoA format in order to meet the UCOP reporting requirements. KFS users will continue to transact in KFS, using the FAU structure until deployment and cutover to the Aggie Enterprise system on January 1, 2024. 
Chart of Accounts Timeline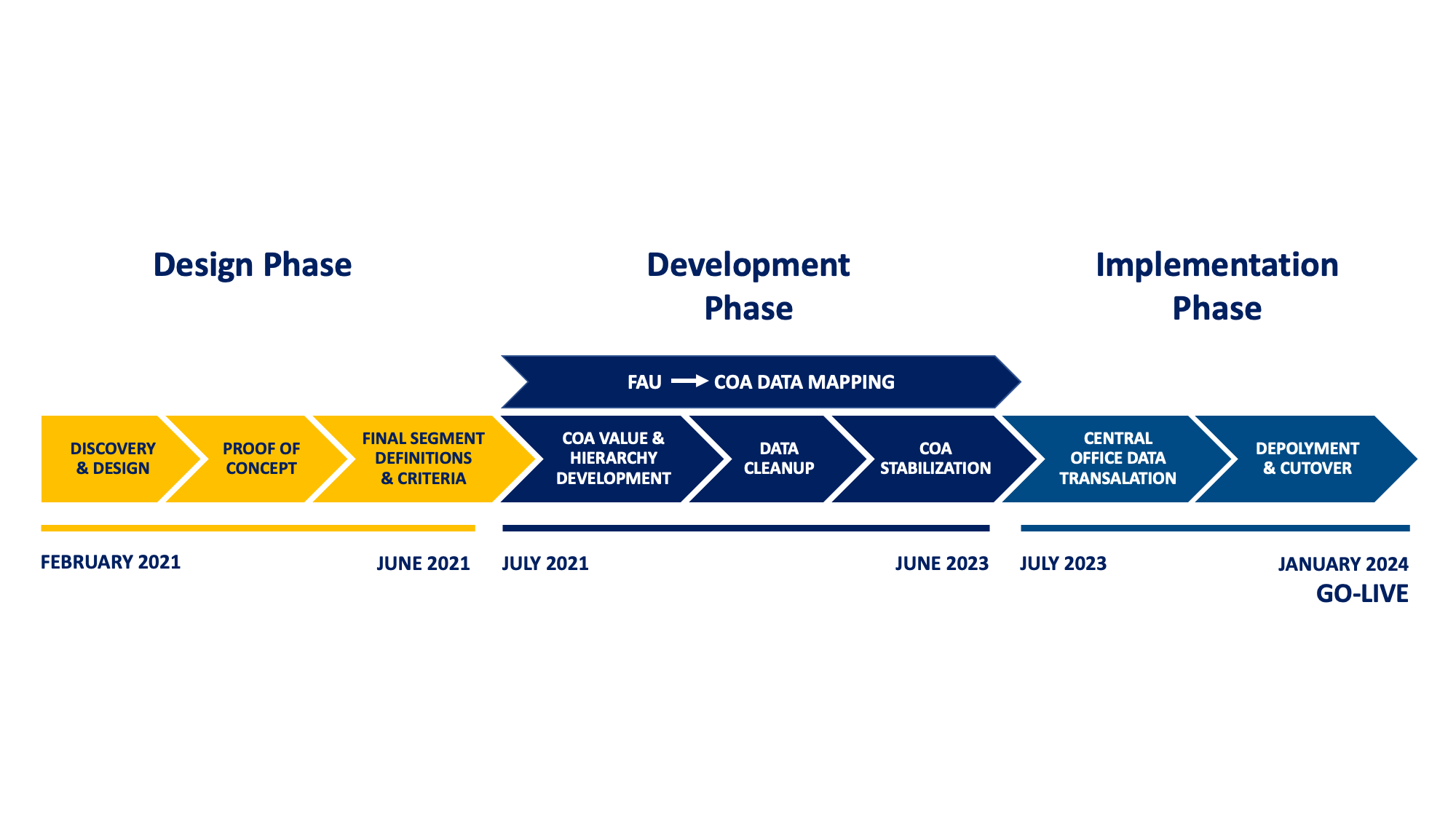 CoA Phases (PDF) | Text Alternative
---
Learn more about the Chart of Accounts and stay up to date on the latest activities.
Presentations
---
Resources and Videos
---