More 'IDEA$' welcome, after 800 ideas from employees so far
Task force begins evaluations toward $50 million goal for UC Davis core funds deficit
UC Davis employees and students pitched more than 800 ideas for potential savings or revenue generation through the IDEA$ at Work campaign, an important step in the university's path to solve its core funds deficit.
More ideas are welcome, as the Revenue Generation and Institutional Savings Task Force works toward its goal of 1,000 ideas — an accomplishment that will trigger a $6,000 donation split between the ASUCD Pantry and the Staff Emergency Funds at UC Davis and UC Davis Health. 
Ideas can be submitted until March 31 on the IDEA$ at Work webpage and via an optional prompt in the Academic and Staff Satisfaction Survey.
Next up, the Revenue Generation and Institutional Savings Task Force will start to review ideas with the intent of identifying $50 million in ongoing savings and net revenue that can help support the campus core mission in three to seven years.
Ideas came from all divisions of UC Davis
Most of the ideas so far have come from employees — with 82% of ideas submitted by staff members and 15% submitted by faculty members. About 63% of ideas were submitted anonymously.
Ideas came in from all university divisions, colleges and schools. Most ideas were submitted from the Davis campus (84%), though 13% of ideas came from the Sacramento campus and 3% came from other UC Davis locations around the state.
About one-third of the ideas (32%) came from employees within the division of Finance, Operations and Administration. Other top units represented were: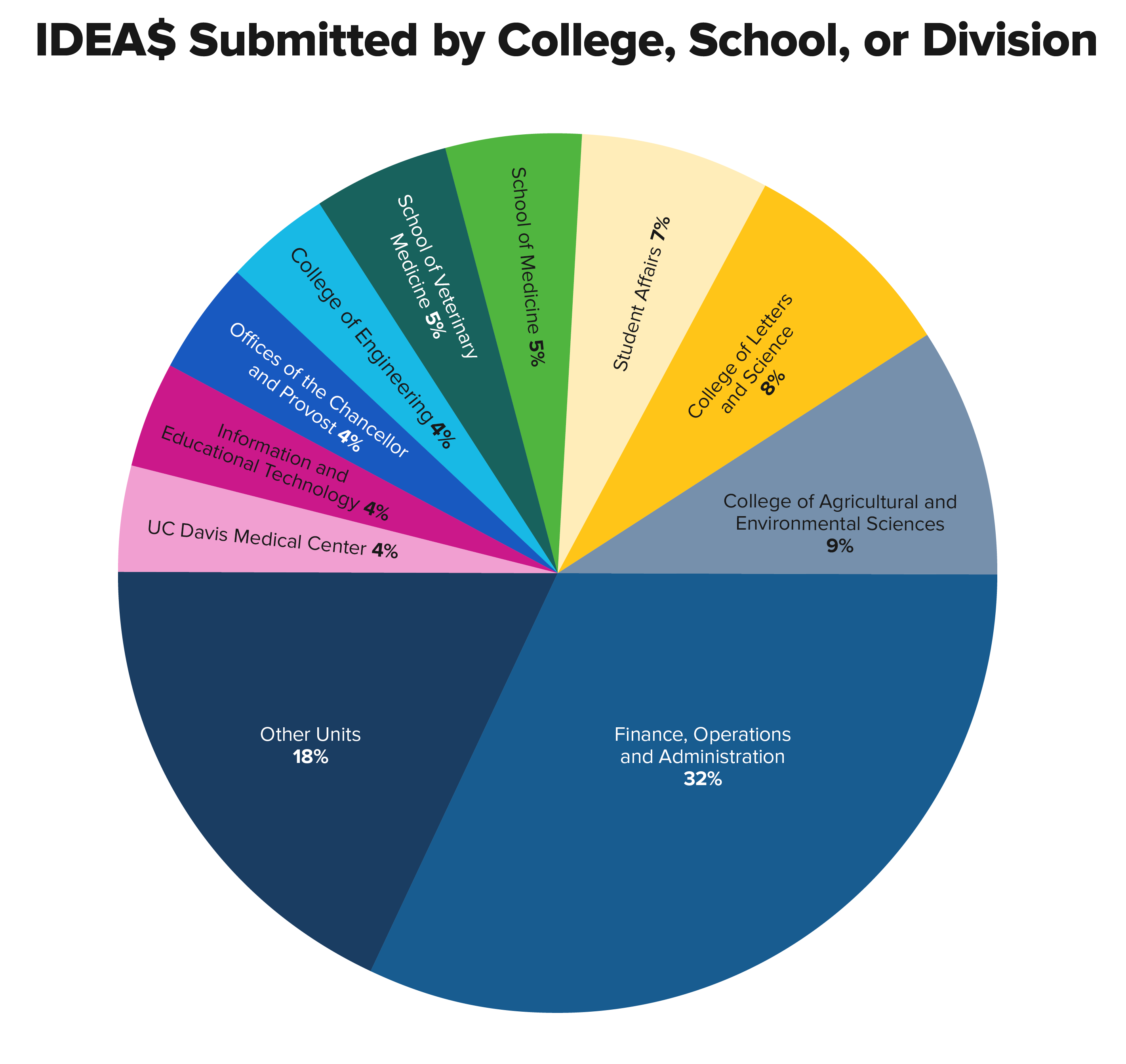 College of Agricultural and Environmental Sciences (9% of ideas)

College of Letters and Science (8%)

Student Affairs (7%)

School of Medicine (5%)

School of Veterinary Medicine (5%)

College of Engineering (4%)

Offices of the Chancellor and Provost (4%)

Information and Educational Technology (4%)

UC Davis Medical Center (4%)
More than half of the ideas (58%) focused on savings opportunities. Ideas included suggestions for process improvements, sales of goods and services, strategic use of resources, educational programs, policy changes, consolidations, sustainability, application development, and marketing or licensing.
Here's a look at 50 early ideas, including suggestions for a bike fleet, electronic diploma system and on-call nurse pool, from a Dateline article in January. All individual prizes have been awarded, with 17 employees taking home Mondavi Center tickets, gift cards or UC Davis merchandise.
Next steps
All ideas will be evaluated by the task force using criteria to assess ideas based on potential for revenue or cost savings and alignment with campus mission. Committee members will also seek input from subject matter experts on ideas that are somewhat vague or require additional information. If your idea isn't selected for broad use, it will be shared with specific leaders within colleges, schools or departments for further consideration at a local level.
By July, the task force will issue a report about the evaluation process and make its recommendations to Provost Croughan. The report will also be published on the task force webpage.
Primary Category
Tags