Help Turn Job Hassles Into Budget Opportunities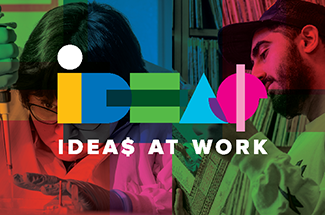 While you're working at UC Davis, do you ever catch yourself daydreaming of ways to make your job better? Wish you could cut a repeat hassle out of your work routine? Or wonder why UC Davis isn't taking advantage of an opportunity that you can clearly see?
A new campaign called IDEA$ at Work asks employees to share insights like these from wherever they work at UC Davis — whether that's in a classroom, lab, office, hospital, field or water treatment plant. The ideas will be used to help identify institutional savings and new streams of revenue, to help fix ongoing budget challenges.
Ideas could include ways to:
Reduce hassles for employees
Reduce wasted time
Find new ways to make money
Provide innovative new streams of revenue
Identify cost savings
Improve efficiency
Cut red tape
"It's my hope that all of our faculty, staff and students will submit their ideas on how we can do things better or differently at UC Davis to address reduced funding from the state," Provost and Executive Vice Chancellor Mary Croughan said.
"I believe that people 'in the trenches' have the greatest insights into opportunities for cost savings and efficiencies, so please let us hear from you. We want to make use of your ideas to help make UC Davis a better place, with a more sustainable financial future."
Send in your IDEA$
- All ideas are welcome, big or small, old or new. Providing your contact information is optional for follow-up questions about your ideas.
Prizes, donations
Helping improve UC Davis is a reward in itself, but there's a prize drawing, too. After you submit your idea or ideas (with or without your contact information for follow-ups), then you will have a chance to enter a prize drawing and provide your email address, which will be kept separately from idea submissions in case you want to maintain anonymity.
Everyone entered in the drawing will receive a code for free tickets to Aggie basketball or gymnastics, plus a coupon for UC Davis Stores. Prizes include tickets to Mondavi Center shows, a $100 UC Davis Stores gift card, earbuds and UC Davis swag.
Once 1,000 ideas are submitted, donations of $2,000 each will be made to the ASCUD Pantry, the UC Davis Staff Emergency Fund and the UC Davis Health Staff Emergency Fund.
$50 million goal
Earlier this year, Croughan gathered representatives from all corners of UC Davis to create the Revenue Generation and Institutional Savings Task Force, which is now leading the IDEA$ at Work campaign. They've been challenged to identify at least $50 million in ongoing net revenue and/or savings that can be applied to the campus core mission in three to seven years, to help address UC Davis' core funds deficit.
I believe that people 'in the trenches' have the greatest insights into opportunities for cost savings and efficiencies, so please let us hear from you," said Mary Croughan, provost and executive vice chancellor.
All ideas submitted will be reviewed and evaluated by task force members, who will report out periodically on their progress. From their various vantage points throughout UC Davis, task force members are also working on developing opportunities that they can envision.
"In particular, I'm excited to focus on new ways to package our educational content and share it with wider audiences," said Lisa Badovinac, a task force member from the Betty Irene Moore School of Nursing. "I hope we can build rapid-cycle educational options that take the needs of our ever-changing community into consideration.
Ideas not selected for broad implementation will be shared with leaders in colleges, schools, administrative units and the medical center for potential implementation on a local scale.
A version of this article originally appeared on UC Davis News.
Primary Category
Tags