Implementation strategies to support a new reality
The scale and type of changes required will take time and must draw on the talents and ideas of all our employees. Several high-level strategies will be employed as we implement our new financial reality. 
Adjust approach to aspects of central funding and financial management that may incentivize different behaviors and achieve savings.

Identify campus-level targeted program reductions and net revenue generation goals.

Support efforts that result in efficiencies within units and for the whole campus.

Identify and support efforts that result in net new and/or increased revenue sources.

Provide unit level savings/revenue generation targets and require units to have balanced annual operating budgets.

Frame faculty hiring planning in the context of the strategic plan and funding constraints.

Increase efforts to influence UC system-level decisions, programs, and state advocacy to support campus efforts.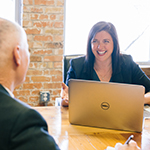 Share your best practices and ideas
Many efforts to reduce waste and improve processes are already taking place across campus. We would like to learn about what you are doing to make the campus more efficient. By sharing your success story, you can help colleagues identify opportunities to implement similar efforts.